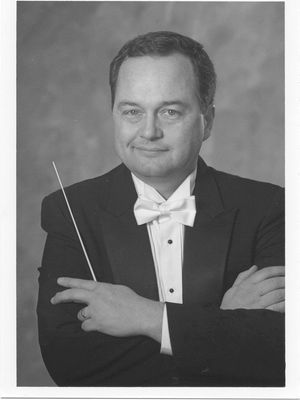 Mark Whitlock is Director of Bands and Professor of Music at the University of Minnesota Duluth. His responsibilities include directing the Symphonic Wind Ensemble, teaching Instrument Conducting, teaching Applied Trombone and supervision of Instrumental Student Teachers. Prior to his appointment at UMD, Mark was Assistant Director of Bands and Assistant Professor of Trombone at Eastern Kentucky University, a position he held since 1986. He has also held the position of Associate Director of Bands at Mason City High School in Mason City, Iowa from 1980 to 1983.
Dr. Whitlock received his Bachelor of Music Education degree from Iowa State University, Master of Music in Trombone Performance and Pedagogy from the University of Iowa and recently the degree of Doctor of Musical Arts in Wind Conducting from the University of Iowa. He is a frequent clinician throughout the country having conducted honors bands and clinics in Kentucky, Indiana, Michigan, Wisconsin, Iowa, Minnesota, West Virginia and California including the 2007-2008 Minnesota All-State Concert Band. Dr. Whitlock has also guest conducted and given clinics in Brazil, South Africa, Argentina, Spain and Turkey. Mark has also been the guest conductor at the Indiana Summer Music Clinic and the International Music Camp.
Dr. Whitlock is conductor of the Twin Ports Wind Orchestra, a local community wind band dedicated to the performance of the finest wind band literature. He has also conducted the Duluth Superior Symphony Orchestra on several concerts as well as with the Minnesota Ballet's performance of the Nutcracker Ballet. Both the UMD Symphonic Wind Ensemble and the Twin Ports Wind Ensemble have performed at state and national conventions including the Minnesota Music Educators Association Convention, American School Band Directors National Association National Convention adn the College Band Nation Association Nation Convention. Dr. Whitlock is also the founder and director of the North Shore Summer Music Experience, a summer camp for young musicians held on the campus of the University of Minnesota, Duluth. Currently he serves as chair of the Minnesota College Band Directors National Association and is on the board of the Minnesota Band Directors Association.
Whitlock is married to Mary Whitlock and they have three daughters, Macaulley, Meredith and Mayson.